Anesthesia & Surgery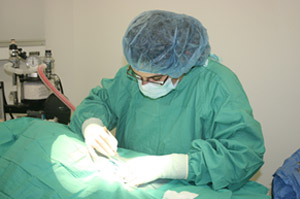 Surgical services at Valley of the Moon Veterinary include spaying, neutering, exploratory and soft tissue surgery as well as many orthopedic procedures. These surgeries, in addition to proper dental cleanings and oral surgery, require general anesthesia.

At Valley of the Moon we make every effort and take every precaution to ensure anesthesia is delivered safely and that your pet experiences minimal pain or discomfort during and after any procedure. Protocols we use have been developed by the American Animal Hospital Association, an organization of veterinary professionals credited with setting the standards which ensure that the highest level of care is being provided.
These measures include a pre-surgical blood test to help us formulate an anesthetic protocol specifically for your pet and the procedure being performed. Prior to inducing anesthesia, your pet is given an analgesic (pain medication) and a sedative so that we can then place an intravenous catheter. The catheter also allows us to maintain blood pressure and hydration through the administration of fluids and electrolytes for the duration of the procedure. And in the event emergency drugs are necessary, the IV catheter allows immediate, direct access to a vein.

While under anesthesia the veterinary technician assigned to your pet continually monitors anesthetic depth, respiratory and heart rate, oxygenation, blood pressure and body temperature. She stays at your pet's side until he is awake and able to move about on his own.